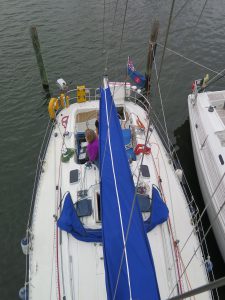 Having spent the day in Ishoy doing various jobs (including going up the mast for a check), we woke to a beautiful morning – sunny, but unfortunately a very light breeze. Today's trip was therefore a motor rather than a sail, though Sod's Law – a lovely sailing breeze sprung up when we were about two miles from our destination. We started early and stopped at Vallensbaek marina to fill with fuel and pump out. After that, we headed straight across towards the wind farm just off Sweden, taking care to avoid the fishing stakes in Koge Bay, which were a fair way out from the shore. Given a fairly dull motoring trip, we spent the time cleaning the decks and trying to calibrate the autohelm compass. Apart from that, it was a very uneventful trip – 23.8 miles.
Around 1.45pm, we arrived in the marina at the northern end of the Falsterbo canal. The canal is a very short one – probably the shortest so far at just one mile. However, it does cut off several miles as it saves going right round the tip of the Falsterbo peninsula. It is a convenient stop for us as we head towards Ystad ready for the weekend.
Below is a video summarising our trip from Kiel to Falsterbo:
The Falsterbo canal itself was built during the Second World War and completed in 1941. The Germans had heavily mined the Falsterbo area, so the canal allowed a route through for shipping in relative security. It was used for shipping for a while, but now seems to be mainly a route for pleasure craft. There is one bridge at the northern end which opens every hour on the hour (apart from 0800 and 1700) and a lock, though this is simply to prevent strong currents through the canal when the levels differ between the Baltic and the Oresund.