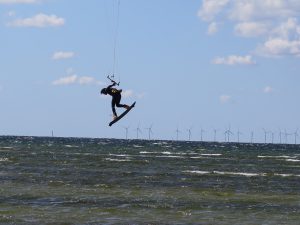 We stopped a day at Falsterbo. With a forecast of F6-7 we decided a lay day was the best option. So we pottered, watched the kitesurfers and generally relaxed despite the wind tugging the boat this way and that in its box berth! Unfortunately, the wind was from the north and so managed to bring a swell directly down the Falsterbo canal. Nevertheless, the marina was sheltered, so we had a reasonably peaceful day. We then got up at 6am this morning to go through the 7am bridge. The Falsterbo Canal has just one bridge and it opens hourly between 0600 and 1800, but with a break at 8am and another at 5pm, so we thought we'd get a head start and go through at 7am. The canal itself is one of the shortest we have ever done at just one mile long!
Once through we headed straight for Ystad. we had a good hour or so of sailing but then the breeze died, so we had to motor for a couple of hours. The breeze then filled in again – this time from the SE so we managed a sail again for the next couple of hours and took the sails in just short of the breakwater into Ystad. We radioed ahead and were met and shown straight to a berth – conveniently right by the harbour office and facilities. Nearly all the other CA Rally boats were already here and there are only a few more to arrive. Andy Hobden was already here as well, so we will catch up with him later.
Ystad seems a nice town and we spent a while wandering around, though virtually everything shuts at 3pm on a Saturday, so it was very quiet. We did find a Co-op though and have managed to stock up on essentials before everything shuts on Sunday! Ystad is actually the town where Henning Mankell bases all the Wallender stories – something which would probably be very exciting if I had read or watched any Wallander!