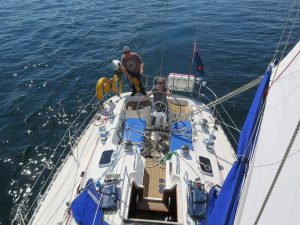 Having done Helsingor (Denmark), we felt it was time we did Helsingborg (Sweden). They are about 2.5 miles apart at the top of the Oresund and marauding armies have spent a good deal of time fighting each other across the sound, so we thought we would head north again and see what they were fighting over. We stocked up with food in Copenhagen first and then left about 10am to head north. The first hour or so we had to motor, but then the wind filled in a little and we were able to sail, albeit slowly. As the wind gradually drew aft, the spinnaker came out again and for the next couple of hours we managed to keep moving reasonably well with the kite up. Around lunchtime, the wind died quite a bit and then slowly filled back in again. However, it shifted as well and as we were almost heading for Copenhagen again, we decided it really was time to take the spinnaker down. We had to tack the next few miles and eventually resorted to the engine for the last 45 minutes as we hit the traffic separation scheme between Helsingor and Helsingborg.
Helsingborg is one of the oldest inhabited parts of what is now Sweden thanks to its strategic position and has been settled since 1065. However, at that time it was controlled by the Danes as they were charging tolls to all ships passing through the Oresund. This lasted for a long time, but eventually the Danes had to relinquish all the land on the eastern side of the sound following the Dano-Swedish war of 1657-8. Though the Danes attempted to get the land back several times, it has essentially been Swedish ever since.
Helsingborg seems very different in character to Helsingor and initially a good deal more hedonistic as we were greeted by jet skis, loads of motor boats and even people on a hover jet. However, the town has a buzz about it and we are moored directly on the waterfront by all the cafes and redeveloped apartment blocks. At the end of the quay is the Dunkers Kulturhaus – a distinctive white building which houses the tourist information, museums and various other facilities. The building is designed by Kim Utson who is the son of the Danish architect Jorn Utzon who designed the Sydney Opera House.