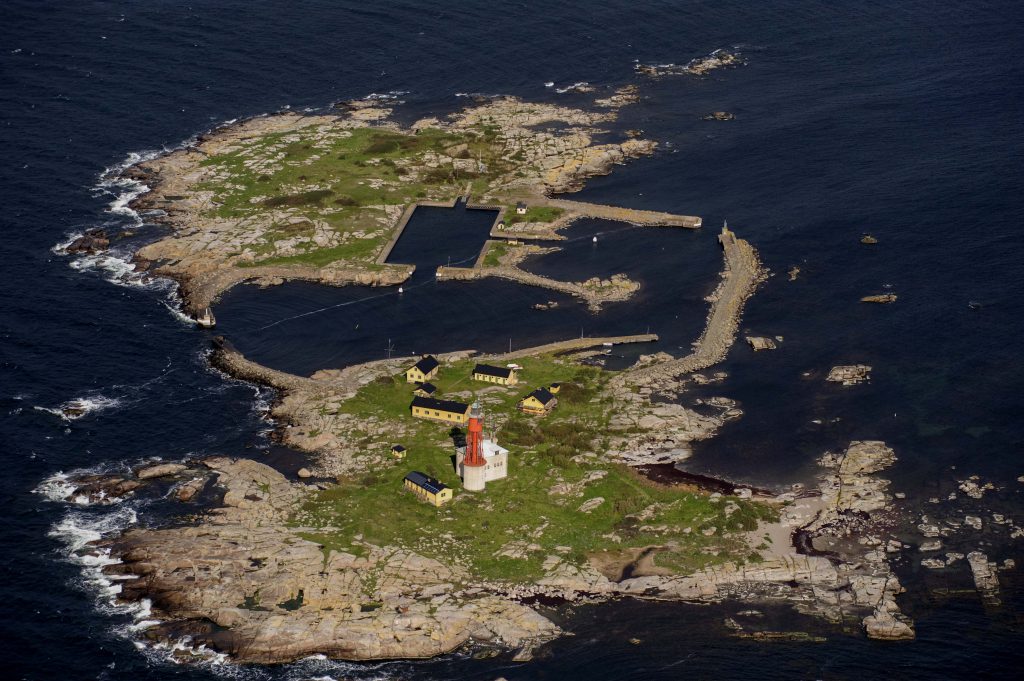 After a few days in Karlskrona we moved on today to one of the most unique places we have visited yet – Utklippan. The passage from Karlskrona was relatively short (16.7 miles) and we had to motor the first section out through the main channel. Once out we hoisted full main and jib and had a lovely close reach all the way to Utklippan in sunshine with 10-12 knots of wind – perfect. As we approached Utklippan we took the sails down and started to navigate more carefully. Utklippan is basically two rocky islands about 12 miles south-east of Karlskrona. The islands are called Norraskar and Sodraskar and you can enter between the islands from the west or east. We had been advised to use the eastern entrance as it was the leeward one – excellent advice if there is much of a swell. It is important to keep a fairly straight line as you enter the breakwaters and then it was a tight turn round a conical stone mark into the harbour. With only a few feet either side of the boat to get into the harbour it was tight, but there is then room for up to around 30 boats to raft up in the rectangular harbour. As well as the CA Rally boats, we ended up with about another dozen boats overnight – a total of about 24 boats. The harbour has a webcam so you can always see who is in there!
If coming in through the western entrance, it is worth keeping quite well over to port and passing close by the conical stone port-hand marker as we watched a German boat coming in and hitting an unmarked rock. He wasn't that far to the right of the straight track, but he stopped very suddenly. Hopefully he didn't do any major damage, but it was a load bang ….
The harbour in Utklippan was blasted out of the rock in the 1930s and 40s to provide an emergency harbour for the local fishermen. It was also used to change over the lighthouse keepers on the southern island. The original lighthouse dates back to 1840, but it was re-modelled in 1870 to the current steel structure. The light was automated in 1972 and no-one has lived permanently on the island since, though there is a youth hostel and bizarrely a sauna. They all looked fairly unoccupied when we were there though. To get to the south island you have to blow up a dinghy and row across as the islands are not directly connected together. We did do that to have a look round. It was a quick look round – beautiful spot though it is, there are no options to go for long walks! The islands are also apparently a haven for wildlife including various toad species and large numbers of birds. The Swedish Ornithological Society have apparently ringed over 350,000 birds on Utklippan since they started.
Overall this is probably one of most beautiful places we have visited – it almost seemed a shame to allow boats to disturb the peace and quiet.