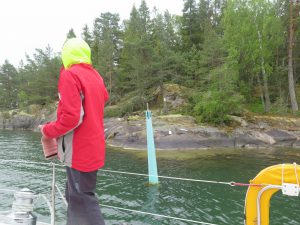 After a murky grey day in Nyköping where we decided that the nice warm interior of the boat was preferable to standing out in the elements (and there were plenty of elements), we moved on today. The forecast was better and, though it was a little grey to start with and we had a bit of rain, the day gradually brightened. It even ended with bright sunshine as we came into the anchorage at Ringson.
Just outside the gasthamn at Nyköping we pulled the jib out and followed Airborne along the channel. At the end we forked off along the inshore route north of Langskar at which point I confidently declared to Jilly that Airborne would fork right a little. They turned hard left to take the northern route round Rensholmen. After a fairly tight run between the rocks, I breathed a sigh of relief, but then saw the next gap. From a distance the red and green buoys all looked in a line, but it turned out there was space – just. We managed to keep sailing most of the way and only had to motor the last twenty minutes or so when the wind died completely just before another chicane through the rocks between Aspo and Krampo.
From there we turned sharp right and headed down to Ringson, through a small gap into the Vasterfjarden anchorage – a lovely bay which opens out. We moored alongside Airborne for tea and then headed off to anchor ourselves. Late afternoon we went ashore for a walk. The island is almost completely uninhabited and there are just a few building which are seasonally occupied to offer pony-trekking round the island. The main inhabitants appeared to be herds of red deer who we kept seeing as we walked around the tracks. A lovely peaceful anchorage.