Having dropped Fiona off for her flight yesterday, we set off promptly this morning to start our way south. We had decided to head for an anchorage called Gronskarsfladden – it looked good in the pilot guide, so we hoped for the best. First though we had to creep our way through the Skurusundet and the Baggensstaket. The Skurusundet is a right turn off the main Stockholm channel and the name skuru is derived from the Swedish word for fissure. The modern day translation might as well be 'loaded' as this is clearly where Stockholm money is spent on property. The houses hung off the cliffs all the way through the sound and it was clear that no expense had been spared at all on most of them. For many of the houses it would also be fair to say that no taste was spared as it was clear that money doesn't always buy any sense of style! The Skurusundet was about 3km long and relatively easy to get through.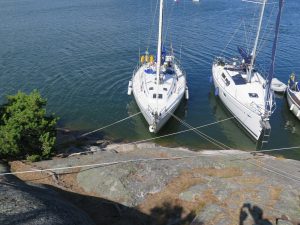 After an open section we then approached the Baggensstaket. This is known as the backdoor to Stockholm and historically various unsavoury characters have tried to get through. In 1436 the sound was filled with rocks to prevent Karl Knutsson from reaching Stockholm while in 1464 the Danish King Christian tried to get through with 24 ships and failed miserably losing every single ship in the narrow channel. The most famous incursion though was the Russians in 1719. They attempted to invade with 6,000 men and were held off by a force of initially just 700 Swedish part-timers. As reinforcements arrived though the Russians gave up and retreated having lost 500 men to just 100 Swedish deaths. They headed for home and two years later a peace treaty was signed – the Battle of Baggensstaket was decisive.
These days, the main battle is just getting through. The initial entrance didn't even feel wide enough for two yachts, so I waited until it seemed clear before heading in. Even then, meeting any boats was interesting and we were quite glad to get right the way through. Once through we were able to sail and though the breeze was quite light to start off with, we ended up with around 18 knots or so and even when we put half a dozen rolls in the jib to slow down through some rocks, we were still doing 7.5 knots over the ground – a great sail.
Gronskarsfladden is quite a tight, but reasonably straightforward entrance with two sets of leading marks at 90o to each other. Once in it opens up into a lovely bay with plenty of space to anchor. However, there was some space on the rocks and it looked really sheltered, so we went in next to a couple of boats already there. The judgement of when to drop the stern anchor was rather too precise as the reel ran out just as the bow got to the rocks – a little too accurate. One bow line went to a tree, but for the other we had to use our pitons for the first time to get somewhere to tie to. We hammered them into a gap in the rocks and tied onto that – we now feel properly 'local' and felt quite smug that we had managed it all quite well without looking too incompetent. That was then fine until the motor boat next door left and managed to catch our anchor as he went, so we had to drop back from the rocks to give him some slack to get our anchor off his warp. Ah well – we'll get it better next time. We then thought we would have a quiet time until someone else headed in. We didn't think there was space between us and the next boat, but it turns out that if you just nose the boats apart, there is space. Mooring to the rocks is an acquired art …