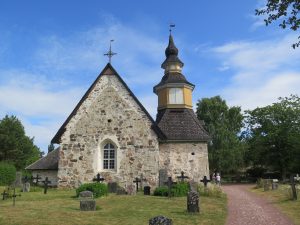 From our overnight anchorage at Sälsö, we headed north today up to the island of Kumlinge. There were various possible ways to go, but given a wind direction just east of north, we decided to go right round the top of all the islands and then head south a couple of miles to the guest harbour at Remmarhamn. This enabled us to sail all the way as we had space to tack across rather than trying to go through narrow channels between the islands. The trip overall was around 16 miles, but we did 19.7 as we had to tack a couple of times. The breeze started fairly gently, but had increased to 12-14 knots by the end of the trip – a perfect breeze to go to windward in.
The Kumlinge guest harbour is fairly small and a little basic, but well sheltered and in a good location. The walk to town is around 2.5-3km, so we headed off after lunch to have a look round and do some shopping. After a trip to the post office with a very helpful postmistress, we then decided to walk up to the church before we shopped to have a look round. The church is called Saint Anna's Church and is first mentioned in a testament from 1484. The church has been rebuilt and extended at various times, but the most outstanding element are a series of wall paintings from the 16th century. These paintings are done in the Franciscan tradition and the artist is unknown. The paintings are quite unique for Åland and even for the whole of Finland and you have to question why they are even there. Kumlinge is a small place to have such unique painting and, while it was a centre for sea trade between Sweden, Finland and Russia, it still seems surprising that a small village church has such a rich adornment. During the Great Northern War the Russian Army used the church for quarters and for stabling for their horses. The paintings got incredibly dirty and the villagers thought it would be a good idea to wash the walls. It turned out not to be a good plan as this also washed the paintings off the limestone walls. Thankfully for us, they gave up and whitewashed the walls instead and this was removed during a restoration of the church in 1961 – a painstaking process.
On the way back we discovered a house selling a range of organic food and bought some Åland Svartbrod (Black bread) to try. The bread is called svartbröd in Swedish and saaristoleipä in Finnish. It is a form of rye bread baked with sour milk and also with malt and syrup making a bread which the baker described as sweet and sour. She told us that she cooks it very slowly and then after taking it out, she then returns it to a very low oven for many more hours. It has a delicious and quite sweet flavour, but they recommended trying it with cheese as well as savoury things as well. An excellent buy …..