After a short walk up the hill to see the view down on Ulvohamn harbour, we headed off across the bay (all of four miles) to the island of Mjalton. The bay we went to was on the east side opposite Ulvon island and is called Baggviken. We had to motor across nearly all the way. We did manage to sail under jib only through Ulvohamn, but the wind quickly died and we had to motor all the rest of the way. Once through the narrow entrance, the bay opens up into a pool and there were some small jetties. Airborne went up against one and, despite a dry run to check the depth, we managed to run aground when we tried to go alongside the other. So, we ended up alongside Airborne on the other jetty. Once moored, we headed up to the peak of Mjalton island – called Mjaltontoppen. The walk was a beautiful one, initially through the forest and then across the rocks up to the summit. The summit is the highest island peak on the High Coast at 236m and the view from the top is stunning. The tradition is to take a stone from the bottom of the island and carry it to the top to add to the cairn when you get there, so we all did!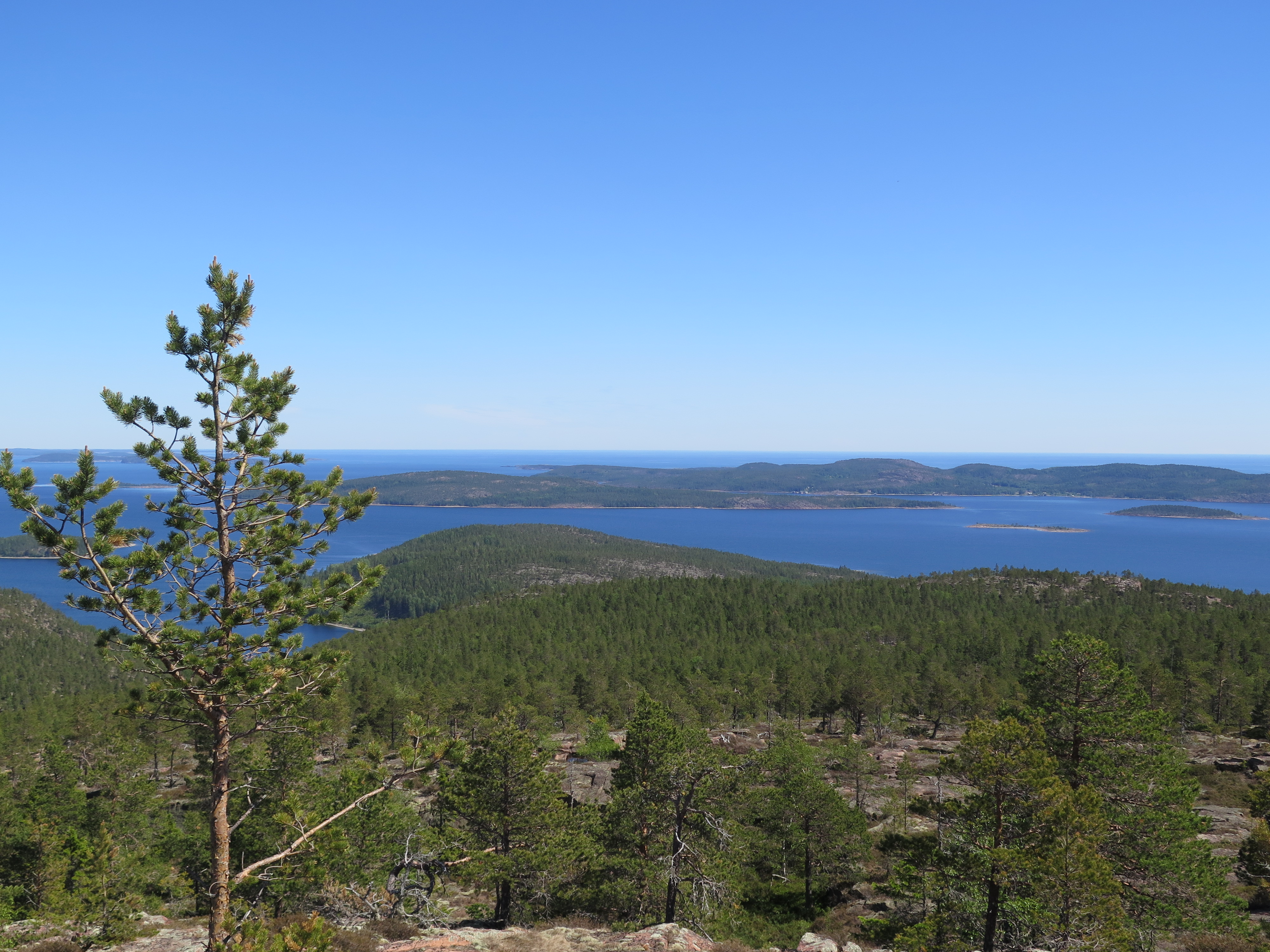 It is a difficult view to portray in a photo and even a panorama would probably fail to do it justice, but it did give us a great overview of various places we had been to on the High Coast and some we planned to head for. Once we got down, after lunch and a quick swim (it was quick as I found out afterwards that the water temperature is currently 11oC), we headed off to Docksta.
Docksta is a bit of a contrast with the main E4 road running past the end of the marina, but it is a lovely friendly gasthamn. We were greeted by the two owners and a friend of theirs who took lines and helped us tie up. They then welcomed us to the place and showed us round. Lovely facilities including a lounge which is a converted boat house and a really friendly welcome – a great place. When we got back from shopping they showed us their new venture – DragonForce 65 model yachts. They have four of them for hire and so we had a go. The wind was very light, but they were incredibly responsive and we were all absolutely absorbed by them. A lovely way to end the day.
To see our tracks, follow the links below: