We ended up staying in Öregrund a few days. The wind decided to blow quite hard from the north and, while we were heading south, it was more than we wanted. The harbour gradually filled up with a variety of Swedish, Finnish and German boats (along with us and Airborne representing the not so united Kingdom!) all sheltering. This would have been fine if it was a sheltered harbour. However, the builders who built the breakwater at Öregrund must have gone on strike or something as the breakwater didn't really shelter the harbour from the north. So, all the boats were clustered on the south side of the jetty trying to keep out of the chop coming into the harbour. It was alright, but the fact that we walked down to the chandlers trying to buy snubbers indicates what it was like!
Despite that, it was lovely place to be holed up for a few days. Öregrund is a very well preserved town. it was originally given a Royal Charter in 1491 when the people from nearby Östhammar realised they had a problem. because of the post-glacial rebound (something of a theme on this coast) their port was no longer deep enough, so Öregrund was granted a charter as a deep water port for Östhammar. In 1520 though Christian II of Denmark conquered Stockholm. Gustav Eriksson gathered an army, and used Öregrund as the port for his ships and men. The Danish King then had the city burnt in the winter of 1520 and the people of Öregrund had to move back to Östhammar. It wasn't until 1555, when Gustav Eriksson had become King Gustav I of Sweden (Vasa) and brought Sweden together, that Öregrund was built up again.
In the 17th Century Öregrund became the port for the export of high-quality Swedish iron. In fact the best quality wrought iron was known in England as Oregrounds iron. But the industrialisation of Sweden never really took a hold in Öregrund and the nearby Östhammar benefited more and so Öregrund re-invented itself in the 19th Century as a spa town and many of the lovely wooden buildings in the town date from that era. Today it is one of the best-preserved towns in the region and has a prominent stone church dating from the 15th Century. One unusual feature of the church is that the votive ships hanging from the ceiling have guns – something we have not seen anywhere else.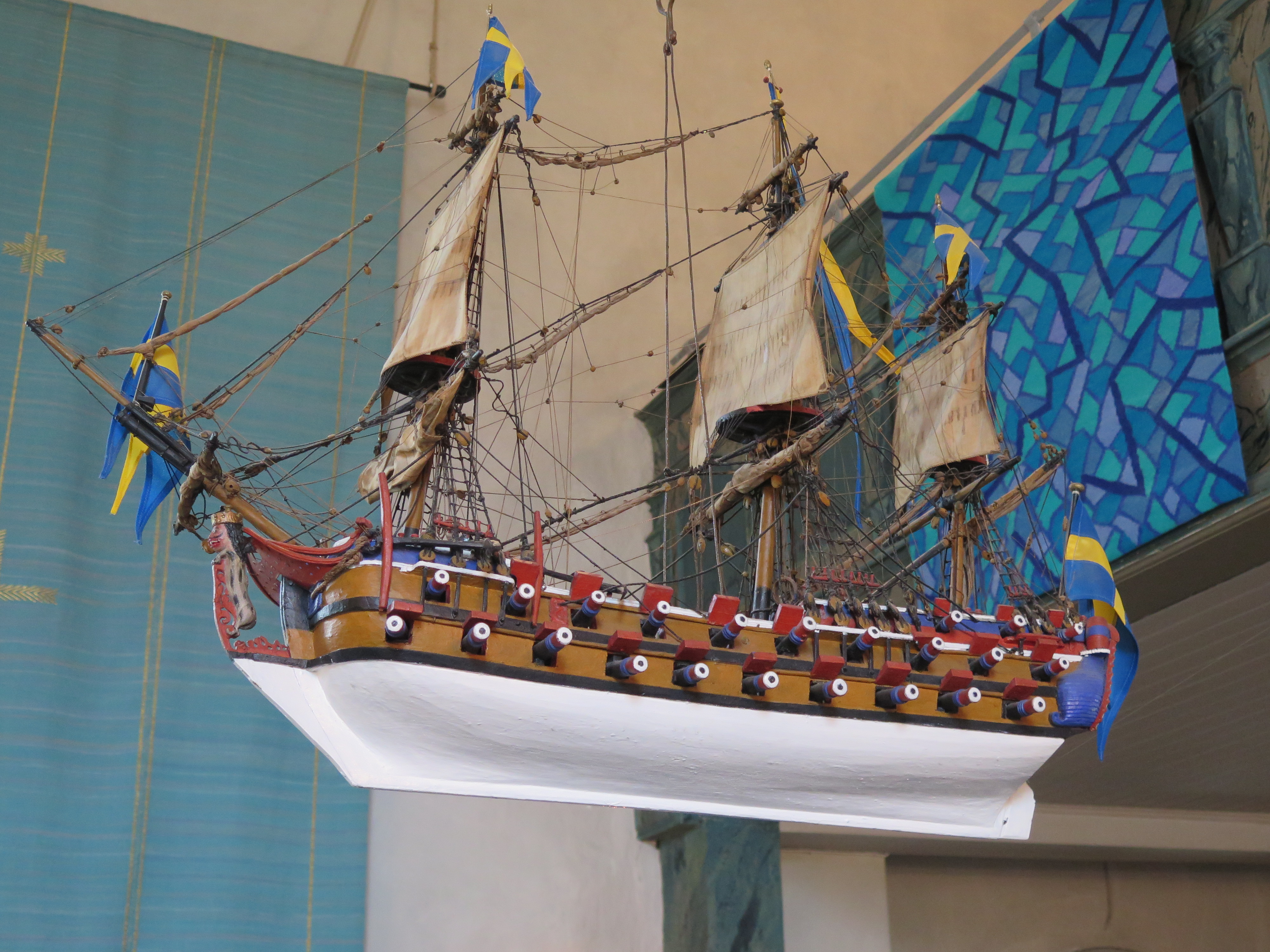 We spent one morning as well on a lovely walk around the park to the north of the town and discovered at last where all the Swedish pixies have been hiding away ….